In 1997, the Colorado Legislature established the Colorado Noxious Weed Management Fund to provide additional financial resources for on-the-ground noxious weed management. Organized private interests, conservation districts, municipalities, and counties have been eligible to apply for assistance provided that awarded funds are used to enhance weed management efforts within the State of Colorado. Over the initial five years that the Fund was supported by the General Assembly, the Colorado Department of Agriculture disbursed $1,255,000 for noxious weed management, education, and mapping.
From 2008 to 2014, the Fund was supported by CDA's Agriculture Management Fund, which contributed about $1 million to support local noxious weed management projects. Since 2015, the Fund has benefitted from a $700,000 annual appropriation from the General Assembly. On average, every dollar of the State's investment has been matched by more than five dollars of private, local, other state, and federal resources. Awards are made on a competitive basis as recommended by a committee of individuals representing the perspectives and experiences of professionals and academic researchers in weed science; state noxious weed managers; Colorado government officials; public natural resource managers; and representatives from agriculture, local weed programs, and environmental interests.
Additionally, the Noxious Weed Program continues to administer federal noxious weed management funds from the U.S. Forest Service's State and Private Forestry program. These funds are devoted to managing noxious weeds on private lands in the vicinity of National Forests and Grasslands in order to prevent the spread of noxious weeds onto federal lands.
Since 2018, CDA has offered scholarships to help cover the cost of building boot brush kiosks! This program has been a success and we are continuing it. Scholarships are awarded on a first-come-first-serve basis. Learn more about Boot Brush Kiosks.

Ready for reimbursement?
Submit the Final Report Form and include photos of your installed boot brush kiosk and proof of payments. Contact the Grants and Outreach Specialist with questions.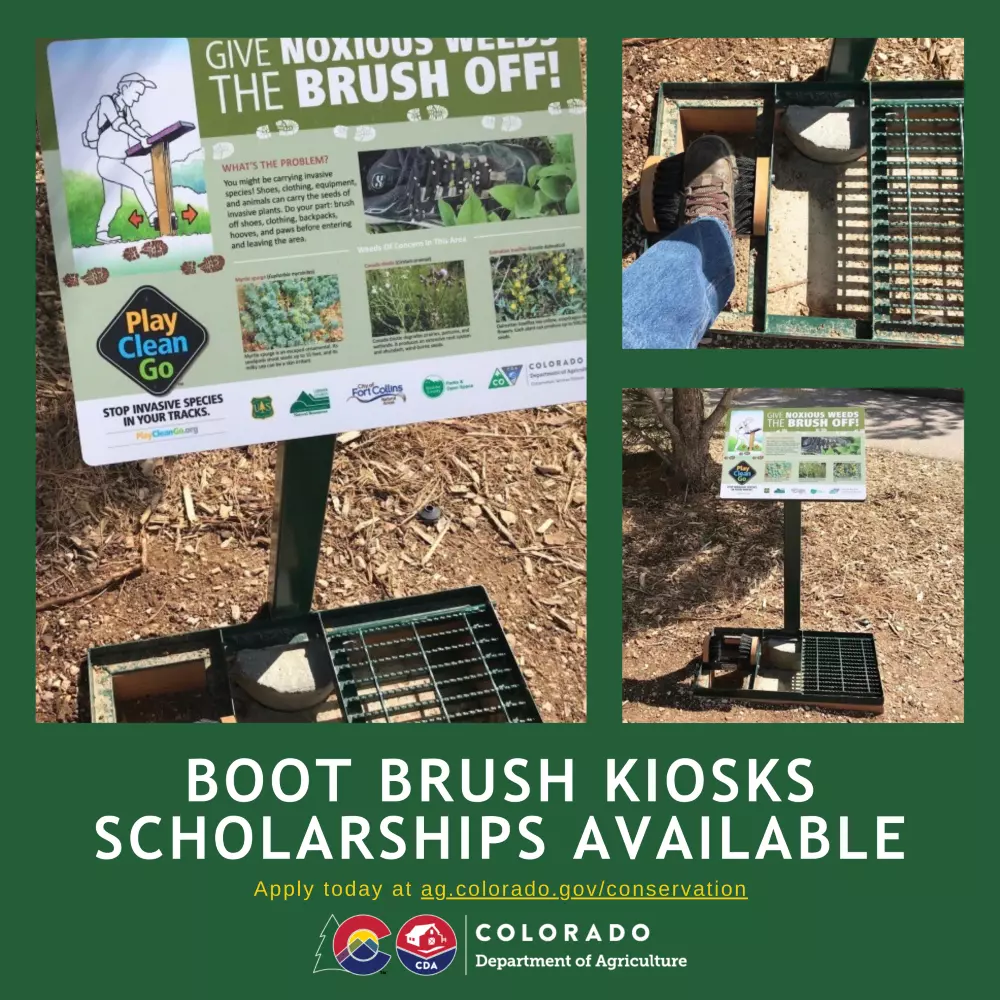 Colorado Weed Management Grants
Noxious Weed Grants Webinar
All 2023 Noxious Weed grant recipients must watch this webinar and fill out the post-webinar questions as part of the 2023 grant process.
You can view the webinar on the right or on YouTube. Review the full agenda of the call. 
Noxious Weed Webinar Questions
2023 Combined Noxious Weed Management (NWF) and U.S. Forest Service State & Private Forestry (SPF) Grant Funds
Read the Request For Applications (RFA) below before completing your application. 
Click each link, then download the form and open it in Acrobat or Excel, not your web browser. 
2023 NWF & SPF RFA  
2023 NWF & SPF Supplemental RFA  
2023 NWF & SPF Application  
2023 NWF & SPF Species Table  
2023 NWF & SPF Budget Instructions  
2023 NWF & SPF Budget  
Deadline: December 16, 2022, 5:00 PM
For CDA and all grantees with U.S. Forest Service Funding (SPF, DSF, BIL):
In accordance with federal civil rights law and U.S. Department of Agriculture (USDA) civil rights regulations and policies, this institution is prohibited from discriminating on the basis of race, color, national origin, sex (including gender identity and sexual orientation), disability, age, or reprisal or retaliation for prior civil rights activity.
Grants Awarded
The Noxious Weed Program funds multiple grant types, all focused on on-the-ground noxious weed management. Funding for these grants comes from two main sources.
The Noxious Weed Fund (NWF) consists of state general funds appropriated to the program to be spent statewide on high-priority noxious weed control projects. The U.S. Forest Service, State & Private Forestry Fund (SPF) consists of federal funds appropriated on an annual basis to the program to be spent on non-federal lands with vicinity to National Forest Service Lands. SPF funds are limited in nature and can be combined with state funds for applicable projects. Since 2015, the program has received $700,000 annually for the NWF, to pass through to local entities to support their noxious weed control efforts, and this is supplemented with approximately $40,000 in SPF funds.
In most years, a part of the Noxious Weed Fund is set aside to support weed mitigation and restoration projects made necessary by a disaster such as fire or flood. Occasionally these funds have been granted to emergency EDRR projects with an immediate need at a time outside the regular NWF/SPF grant cycle. 
Other Funding Opportunities
There are several dedicated funds that annually solicit funding proposals related to weed management. Please check the following websites for additional information: