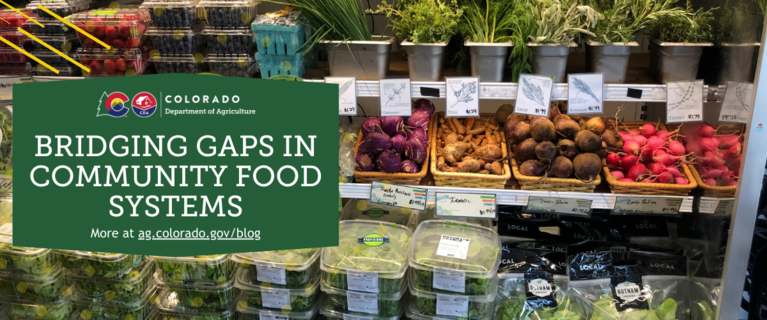 Colorado is famous for our juicy peaches, nutritious beef, nourishing potatoes, and many other agricultural products that can fill a plate any time of year.
Despite this abundance, the COVID-19 pandemic increased the rates of nutrition insecurity in Colorado and the rising cost of food exacerbates this even further. Connecting Coloradans to fresh, nutritious food is critical to addressing the growing threat of food insecurity and helps create stronger local food systems that support their communities. 
To help rural and food insecure communities find more access to affordable fresh food, CDA's recently launched Community Food Access program will offer grants up to $25,000 to small food retailers and small family farms to increase access to healthy food in low income, low access communities in the state. With the passage of HB23-1008 the grants will be increased to a maximum of $50,000, effective this September.  
As the program launches, CDA is looking to contract with nonprofit and community organizations across the state to promote the program and offer technical assistance to eligible businesses. The selected nonprofit organizations will ensure these opportunities reach the communities across the state who need them most.
The selected contractors will also help CDA promote a new Consortium of small food retailers, small family farms, and other interested stakeholders, which will aim to identify and address additional barriers to offering healthy food in retail settings. 
Up to eight nonprofit contractors (one per region) will be selected to offer outreach and technical assistance to potential grant applicants. Contractors can submit bids to serve up to two regions identified by CDA. Nonprofits are encouraged to collaborate and sub-contract with other community and grassroots organizations, nonprofits, and local governments to adequately ensure outreach and technical assistance reaches all areas of a region. 
The full RFP can be viewed online on Colorado Vendor Self Service (ColoradoVSS). Select "Public Access" in the left navigation menu, and find the RFP using the key word *2023*0342*. Use asterisks for your search. Proposals are due on June 14, 2023.
More information about the Community Food Access program and this RFP can be found at ag.colorado.gov/cfa.